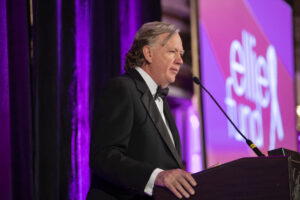 On the night of March 12th, more than 400 supporters gathered in black tie and gowns in the ballroom of the Copley Plaza to walk the red carpet for the Benefit of the Ellie Fund. The annual tradition, now in its 27th year, celebrates and supports families who are braving a breast cancer diagnosis.
the event has been sponsored for years by WCVB Channel 5, which broadcasts the Academy Awards locally, and the evening was hosted by Chronicle's Shayna Seymore and Erika Tarantal. ABC News ABC News Chief Medical Correspondent Dr. Jennifer Ashton received the Annual Rose Award for her work breaking barriers to women's health care.
The night raised over $625,000 for the Ellie Fund, including a $50,000 sponsorship and $50,000 challenge grant from the ILENE BEAL Foundation.
Ilene Beal was posthumously honored with the Rose award at their gala in 2019 in recognition of her longstanding and generous support of the organization.